Optimized & Industry-ready Solutions
Our new service offerings
OSHA-Compliant Forklift
Certification
Full-time Certified Trainer
Classroom instruction
Hands-on evaluation in our facility*
Variety of PIT's
Proper documentation for your records
Basic training for refresher / upskilling
Provide as a stand alone service offering
* OSHA requires operators be certified on the equipment in the facility they will be operating in
Full-time positions
Industrial worker version of executive search
Expands the potential applicant pool from 3.7% of the workforce to 62% of the workforce

The best candidates simply won't consider a T-H position

Ignite does the hard work of recruiting, interviewing, screening, vetting and validating candidates
Your hiring representatives:

Interview pre-screened candidates
Provide immediate feedback
Extend job offer directly to candidate / determine start date

PrimeHire Search Fee

Same price as a typical Temp-to-Hire fee
Invoiced and earned over an 8 week period
If employee leaves for any reason during the hiring period, invoices stop

Win-Win

Companies get a more committed employee than a temp
Employee starts earning benefits from their first day of employment
Project work and seasonal positions
Labor market has changed

Flexibility ranks #2 (right behind pay rate)
Workers have the option to select weekly work schedule
Software platforms make it easy for employers and workers
44 million people can't / don't want 40 hours per week

Most successful in 4 to 5 hour shifts
Perfect for the logistics industry –e-commerce

Transferable skills
Very short learning curve
Reduce / eliminate overtime
Fully Equipped Facility
We train and evaluate forklift operators in our own customized training facility, complete with a forklift obstacle course, pallets, and a pallet rack.
Our training room is equipped for presentation, lecture, discussion and evaluation.
Temporary Staff
We offer traditional temp staffing services for industrial jobs.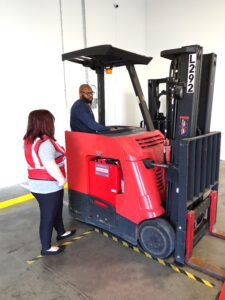 Good industrial employees are an asset to any company and we know that, so to tap into a greater pool of workers, we came up …
Ignite recently partnered with our client, ODW Logistics, to support the American Heart Association in raising money to fight against heart disease and stroke which …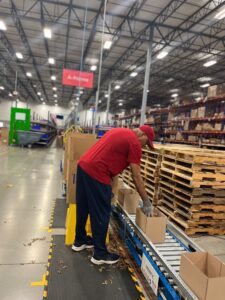 At Ignite Industrial Professionals, our commitment to front-line workers is in our name. We treat them like the professionals they are, and when we work …
Need Reliable Workers?
We Source Hard Workers for Your Industrial Positions, Both Traditional Temporary Staffing, and Recruiting for Permanent Hires.